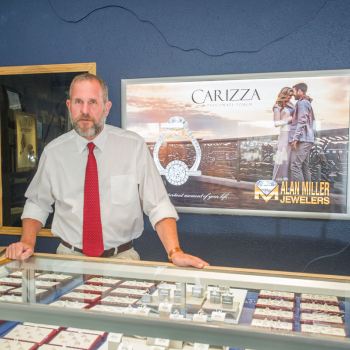 Tom Cluckey
Master Jeweler
Tom has been a lifetime resident of the Eastern Lucas county region. He attended the Oregon City School System from 1970 to 1982. During his time at Clay High School Tom Studied Vocational Welding and Steel Fabrication with the intention of entering the trades. Upon graduation he began his career in Metal Fabricating at Northern Manufacturing, Oak Harbor, Ohio.
Industrial metal fabricating was soon overshadowed by an opportunity in the precious metal industry. The allure of working with rare and exotic materials made an occupational career change all but certain by the fall of 1984.

November 1984
Tom began his 10 year apprenticeship in the manufacturing sector of the jewelry industry. During this time he studied all phases of commercial jewelry design, repair and construction. Throughout his manufacturing tenure he specialized in Diamond and Gemstone setting, Goldsmithing, model design and production.

November 1999
Tom moved his talents to Alan Miller Jewelers to reside as the corporations Master Jeweler. He has served our organization throughout the past 18 years as Lead Designer and Manufacturer of all custom jewelry development. He also provides our jewelry repair, Gold/Platinum and Silversmithing requirements. Tom is also available upon request in a sales and customer service capacity.

Toms 34 years of experience will provide the best possible product for all your jewelry needs.

Go Back